Matrix Theatre students create stage art around Detroit experiences
Detroit Public Schools students rehearse for an upcoming performance by Matrix Theatre Company's audition-only Teen Company. All photos by Doug Coombe.
This story was originally published on ModelMedia.com and is being republished here as part of a content-sharing partnership with Issue Media Group, a Detroit-based media company that publishes stories about investment, growth, and the people leading communities in cities nationwide. 
By Chloe Seymour
If all the world's a stage, Detroit is at the very center for the Detroit Public Schools students participating in the programming at the Matrix Theatre Company – ranging anywhere from writing scripts about their Detroit experiences to puppeteering.
 
While many children indulge in video games and television when they return home from school, Matrix Theatre students are a different breed. They spend their after-school hours – and yes, even their precious weekends – transforming abstract ideas into scripts, running lines, and watching their concepts come alive on stage.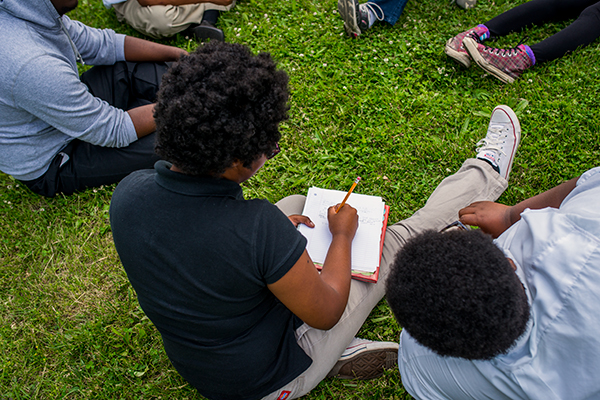 Three words are proudly displayed on the front page of Matrix's website, setting the tone for student experiences: theater, community, social justice. Andrea Scobie, Matrix's director of education, says students are encouraged and inspired to create scripts based on what they're experiencing in their own communities on a daily and deeply personal level.
 
"Theater not only teaches us about other cultures, but has the ability to magnify our own self and our own society," Scobie said.
The theater's emphasis on openness has given Matrix students the opportunity to create stage art revolving around challenging topics some have faced or witnessed living in Detroit, including gang violence, water access rights, and standardized testing in schools.
 
Scobie emphasizes the importance of local kids putting their pens to paper – Matrix students are telling the stories of modern day Detroit.
 
"It's a processing mechanism," Scobie said. "It's not just one student's idea or experience, it's pieces of all students' experiences. They're able to see there's common ground in all aspects of life and more deeply empathize and share through deep issues in their own lives."
 
With classes both at the theater and in-school DPS programs, Scobie and her instructors work almost around the clock to ensure students are able to engage in all facets of theater. Through Matrix classes and DPS outreach programs, the organization works with 1,200 kids each year within the city and beyond.
 
One of the key aspects of the educational partnership is an arts integration component, enabling DPS students to explore science, math, and English through nontraditional routes and role-playing.
"Any subject you can think of, we've done it," Scobie said. "It's a unique way to teach collaboration, teamwork, memorization, cultural awareness – all of this is taught through the arts."
 
And this type of exploration is necessary. As public schools nationwide have fought ever-increasing arts education budget cuts, students have begun to suffer from a lack of early exposure to classical music, art and theater. Yet the numbers emphasize the importance of arts education.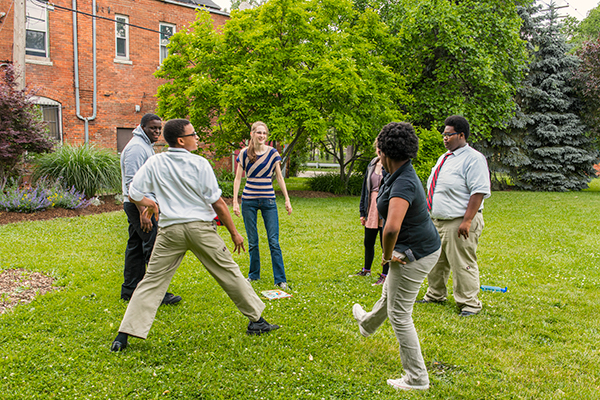 The American Alliance for Theatre and Education found students involved in drama performance scored an average of 65.5 points higher on the verbal component of the SAT and 35.5 points higher in the math component.
Students involved in theater also reported higher levels of social compatibility and self-confidence than their non-theater counterparts – something everyone could have used in high school.
Scobie says these types of academic and social changes are obvious in her students as they progress in theater programs. She witnesses complete transformations of their "classroom cultures" and sense of personal relationships.
"Students develop improved literacy throughout the programs; they're able to write, edit, read and collate," Scobie said. "They have a new identity of themselves as learners and a new confidence in themselves. They really build themselves across academia."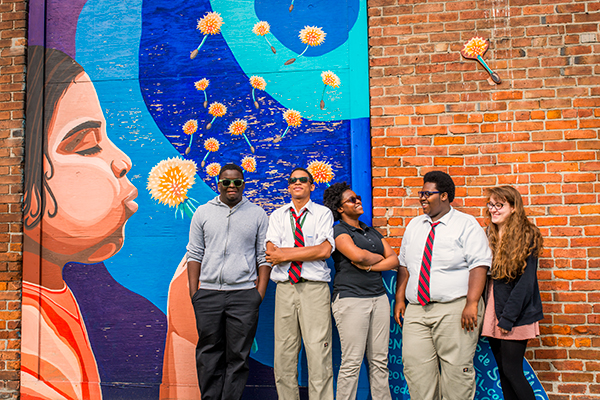 As Detroit children make their way through a world and a city that are constantly evolving, Matrix Theatre Company is acting as a healthy and dynamic community outlet for creative students. Matrix students' scripts and performances are helping to keep a record of Detroit's present triumphs and tribulations.
 
From the first-time actor within a DPS classroom – blushing in a room full of peers – to the experienced Matrix student reciting Shakespeare as second-nature, Matrix Theatre Company is dedicated to putting Detroit's kids at center stage.